Filter by Category
Arts & Crafts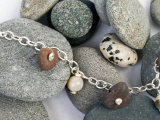 Art Night Out - Stone Charm Bracelet
with Art Night Out Staff

Apr 24, 2018 at 6 pm

, runs for 1 week
Our custom charm bracelet is perfect for personalizing with stones and beads. Using pre-drilled stones, you will learn wire-wrapping techniques to add components and decorative embellishments to this adjustable bracelet (sterling silver over brass). Workshop includes all materials to make one silver bracelet.
Digital Photography I - Beginner/ Intermediate
with Leah Haraden

Apr 23, 2018 at 6 pm

, runs for 4 weeks
Whether you've just purchased your first digital camera or you are an aspiring pro or semi-pro photographer, this crash course will give you the technical skills and creative inspiration to take your work to a new level. During this four week class, you will become progressively more confident handling your camera and choosing settings that will help you to produce the quality of images you have always desired. Included will be a combination of very lively lectures, demos, instructor handouts, slide shows, videos, and as much hands-on practice as possible in class. Students are encouraged to study and practice on their own with the optional homework assignments. All students should bring a digital camera that has manual exposure mode with a fully-charged battery, at least one lens, a tripod and an extra memory card to each class.